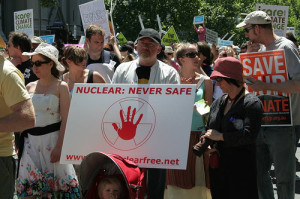 Opponents of nuclear energy in Texas are rejoicing as Dallas based nuclear giant Luminant has abandoned their efforts to obtain license for two nuclear reactors. Chief opponents of Luminant's venture, Sustainable Energy and Economic Development Coalition, view this move as clearance for Texas residents to be provided with affordable renewable energy which is also safer and cleaner.
In the wake of Luminant's decision, reports have surfaced that announcements have been made by owners to close five existing nuclear reactors. These events are testament that the renaissance of nuclear energy is slowly coming to an end.
Following announcements five years ago of 8 reactors for Texas, the only area still seeking license now is South Texas. The majority interest of these reactors would be owned by a company in Japan. The Sustainable Energy and Economic Development Coalition are also opposing these reactors.
Low natural gas prices in recent years have kept electricity rates in Texas cheap.  This has created an even more challenging environment for renewable energy.  Renewable energy often finds it difficult to compete with fossil fuels on price.